Product Summary
The 2n7002 is a N-Channel 60-V (D-S) MOSFET.
Parametrics
2n7002 absolute maximum ratings: (1)Drain-Source Voltage VDS 60V; (2)Gate-Source Voltage—Non-Repetitive VGSM: ±40V; (3)Gate-Source Voltage-Continuous VGS: ±20V; (4)Continuous Drain Current TA= 25℃: 0.115V; TA= 100℃, ID: 0.073A; (5)Pulsed Drain Current IDM: 0.8A; (6)Power Dissipation: TA= 25℃: 0.2W; TA= 100℃: 0.08W; (7)Thermal Resistance, Junction-to-Ambient RthJA: 625℃/W; (8)Operating Junction and Storage Temperature Range TJ, Tstg: –55 to 150℃.
Features
2n7002 features: (1)Low On-Resistance: 2.5Ω; (2)Low Threshold: 2.1 V; (3)Low Input Capacitance: 22 pF; (4)Fast Switching Speed: 7 ns; (5)Low Input and Output Leakage.
Diagrams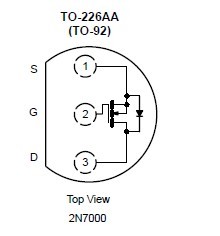 Image
Part No
Mfg
Description
Pricing
(USD)
Quantity

2N7002

Fairchild Semiconductor

MOSFET N-CHANNEL 60V 115mA

Data Sheet



| | |
| --- | --- |
| 0-1: | $0.13 |
| 1-25: | $0.12 |
| 25-100: | $0.07 |
| 100-250: | $0.04 |


2N7002 H6327

Infineon Technologies

MOSFET N-Channel 60V MOSFET

Data Sheet



| | |
| --- | --- |
| 0-1: | $0.10 |
| 1-10: | $0.07 |
| 10-100: | $0.05 |
| 100-500: | $0.04 |


2N7002 L6327

Infineon Technologies

MOSFET N-KANAL SML SIG MOS

Data Sheet

Negotiable

2N7002 LTI

Other



Data Sheet

Negotiable

2N7002 T&R 3000 PCS

Central Semiconductor

MOSFET N-Ch 5V .2A

Data Sheet

Negotiable

2N7002(Z)

Other



Data Sheet

Negotiable

2N7002,215

NXP Semiconductors

MOSFET N-CH TRNCH 60V 300MA

Data Sheet



| | |
| --- | --- |
| 0-1: | $0.03 |
| 1-25: | $0.01 |
| 25-100: | $0.01 |
| 100-250: | $0.01 |


2N7002\E9

Vishay Semiconductors

MOSFET SOT-23 N-CH 60V 0.25

Data Sheet

Negotiable