Product Summary
The C503C-WAS-CBADB151 is a 5-mm round LED. Applications are (1)Torch; (2)Light Strip; (3)Channel Letter; (4)Retail Display Lighting.
Parametrics
C503C-WAS-CBADB151 absolute maximum ratings: (1)Forward Current: 30 mA; (2)Peak Forward Current Note: 100 mA; (3)Reverse Voltage: 5 V; (4)Power Dissipation: 120 mW; (5)Operation Temperature: -40 to +95 °C; (6)Storage Temperature: -40 to +100 °C; (7)Lead Soldering Temperature: Max. 260°C for 3 sec. max (3 mm from the base of the epoxy bulb).
Features
C503C-WAS-CBADB151 features: (1)Size (mm): 5; (2)Color Temperatures (K): »»Cool White: Min. (4600)/ Typical (9000); (3)Luminous Intensity (mcd)»»C503C-WAS/WAN (16800-39500); (4)Viewing Angle: 15 degree; (5)Lead-Free; (6)RoHS-Compliant.


Diagrams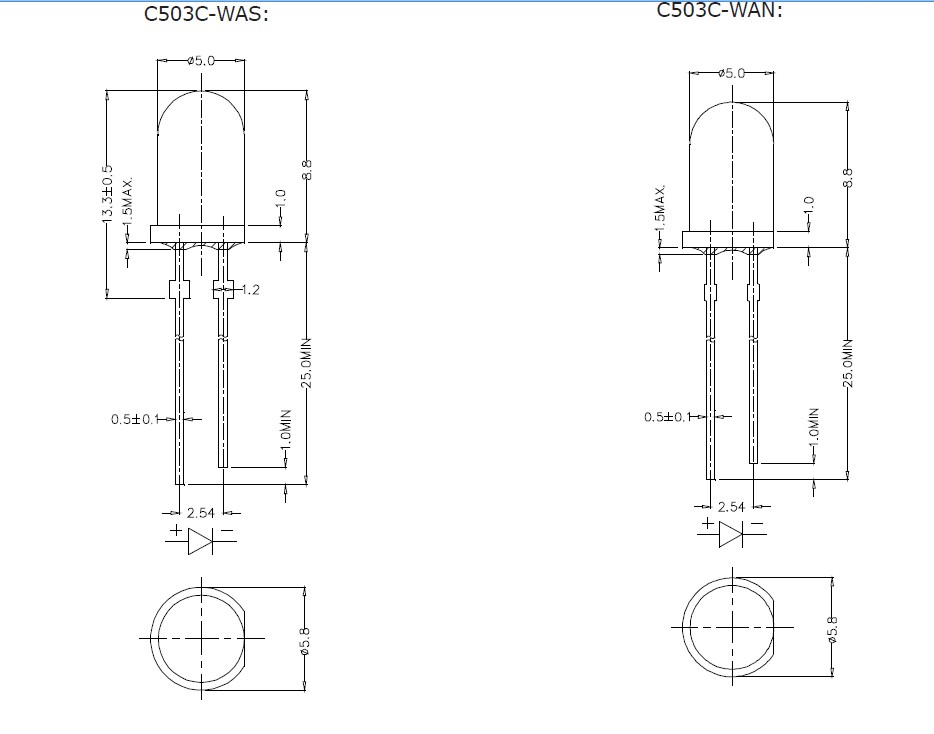 Image
Part No
Mfg
Description
Pricing
(USD)
Quantity

C503C-WAS-CBADB151

Cree, Inc.

Standard LED - Through Hole White Round LED

Data Sheet



| | |
| --- | --- |
| 0-1: | $0.13 |
| 1-50: | $0.13 |
| 50-100: | $0.12 |
| 100-500: | $0.11 |

Image
Part No
Mfg
Description
Pricing
(USD)
Quantity

C5033.41.01



1C14B RG11/U FL+61%TC CL2/CM

Data Sheet



C5034.41.01



1C14W RG11/U FL+40%AL AWM

Data Sheet



C5039.41.01



CABLE COAX RG11/U 14AWG BLACK

Data Sheet



C5039.41.02



1C14W RG11/U FL+65%AL CL2/CM

Data Sheet



C503B-AAN-CA0C0251-015

Cree, Inc.

Standard LED - Through Hole Amber Round LED

Data Sheet



| | |
| --- | --- |
| 0-1: | $0.12 |
| 1-50: | $0.11 |
| 50-100: | $0.10 |
| 100-500: | $0.09 |


C503B-AAN-CA0C0252-015

Cree, Inc.

Standard LED - Through Hole 15DG AMB NOSTNDOF HI BRT LAMP 591K 2.1V

Data Sheet



| | |
| --- | --- |
| 0-1: | $0.12 |
| 1-50: | $0.11 |
| 50-100: | $0.10 |
| 100-500: | $0.09 |