Product Summary
The FSBB30CH60F is an advanced smart power module (SPMTM) that Fairchild has newly developed and designed to provide very compact and high performance ac motor drives mainly targeting low power inverter-driven application like air conditioner and washing machine. The FSBB30CH60F combines optimized circuit protection and drive matched to low-loss IGBTs. System reliability is further enhanced by the integrated under-voltage lock-out and shortcircuit protection. The high speed built-in HVIC FSBB30CH60F provides optocoupler less single-supply IGBT gate driving capability that further reduce the overall size of the inverter system design. Each phase current of inverter can be monitored separately due to the divided negative dc terminals.
Parametrics
FSBB30CH60F absolute maximum ratings: (1)Supply Voltage Applied between P- NU, NV, NW, VPN: 450V; (2)Supply Voltage (Surge) Applied between P- NU, NV, NW, VPN(Surge): 500V; (3)Collector-emitter Voltage, VCES: 600V; (4)Each IGBT Collector Current TC = 25℃, ±IC: 30 A; (5)Each IGBT Collector Current (Peak) TC = 25℃, Under 1ms Pulse Width, ±ICP: 60A; (6)Collector Dissipation TC = 25℃ per One Chip, PC: 103W; (7)Operating Junction Temperature, TJ: -20 to 125℃.

Features
FSBB30CH60F features: (1)UL Certified No.E209204(SPM27-BA package); (2)600V-15A 3-phase IGBT inverter bridge including control ICs for gate driving and protection; (3)Divided negative dc-link terminals for inverter current sensing applications; (4)Single-grounded power supply due to built-in HVIC; (5)Isolation rating of 2500Vrms/min; (6)Very low leakage current due to using ceramic substrate.
Diagrams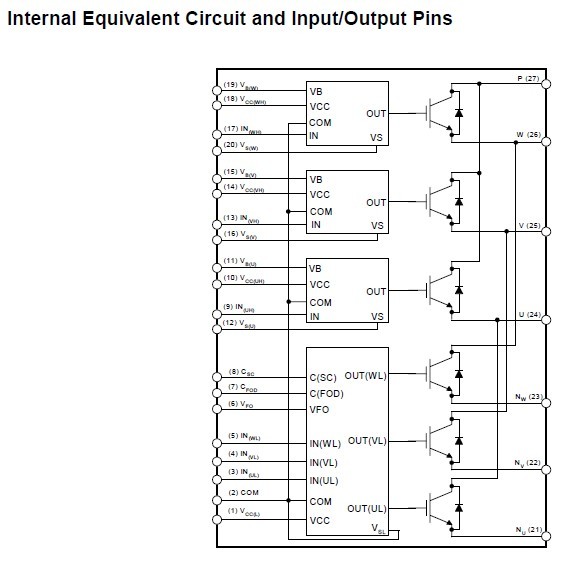 Image
Part No
Mfg
Description
Pricing
(USD)
Quantity

FSBB30CH60F

Fairchild Semiconductor

Motor / Motion / Ignition Controllers & Drivers HIGH_VOLTAGE

Data Sheet



| | |
| --- | --- |
| 0-36: | $18.10 |
| 36-100: | $16.82 |
| 100-250: | $15.43 |

Image
Part No
Mfg
Description
Pricing
(USD)
Quantity

FSBB15CH60

Fairchild Semiconductor

IGBT Transistors HIGH_POWER

Data Sheet



| | |
| --- | --- |
| 0-1: | $15.71 |
| 1-25: | $13.36 |
| 25-100: | $12.41 |
| 100-250: | $11.38 |


FSBB15CH60B

Fairchild Semiconductor

IGBT Transistors 600V -15A 3-phase

Data Sheet

Negotiable

FSBB15CH60BT

Fairchild Semiconductor

IGBT Transistors 600V -15A 3-phase

Data Sheet

Negotiable

FSBB15CH60C

Fairchild Semiconductor

IGBT Transistors 600V -15A 3 Phase

Data Sheet



| | |
| --- | --- |
| 0-1: | $12.96 |
| 1-25: | $11.98 |
| 25-100: | $10.24 |
| 100-250: | $9.39 |


FSBB15CH60F

Fairchild Semiconductor

IGBT Transistors 600V SPM

Data Sheet



| | |
| --- | --- |
| 0-36: | $13.40 |
| 36-100: | $12.46 |
| 100-250: | $11.42 |
| 250-500: | $10.87 |


FSBB20CH60

Fairchild Semiconductor

IGBT Modules HIGH_POWER

Data Sheet



| | |
| --- | --- |
| 0-36: | $13.40 |
| 36-100: | $12.44 |
| 100-250: | $11.42 |
| 250-500: | $10.87 |