Product Summary
The MAX9201ESE high-speed, lowpower, quad/dual/single comparators feature TTL logic outputs with active internal pullups. Fast propagation delay (7ns typ at 5mV overdrive) makes the MAX9201ESE ideal for fast A/D converters and sampling circuits, line receivers, V/F converters, and many other data-discrimination, signal restoration applications. The MAX9202/MAX9203 feature output latches with TTL compatible inputs. The comparator output states are held when the latch inputs are driven low. The MAX9201ESE provides all the same features as the MAX9202/MAX9203 with the exception of the latches.
Parametrics
MAX9201ESE absolute maximum ratings: (1)Analog Supply Voltage (VCC - VEE): +12V; (2)Digital Supply Voltage (VDD): +7V; (3)Differential Input Voltage: (VEE - 0.3V) to (VCC + 0.3V); (4)Common Mode Input Voltage: (VEE - 0.3V) to (VCC + 0.3V); (5)Latch Input Voltage (MAX9202/MAX9203 only): -0.3V to (VDD + 0.3V); (6)Output Short-Circuit Duration To GND: Continuous, To VDD: 1min; (7)Operating Temperature Range: -45℃ to +85℃; (8)Junction Temperature: +150℃; (9)Storage Temperature Range: -65℃ to +150℃; (10)Lead Temperature (soldering, 10s): +300℃.
Features
MAX9201ESE features: (1)Fast 7ns Propagation Delay; (2)Low 9mW/Comparator Power Consumption; (3)Separate Analog and Digital Supplies; (4)Flexible Analog Supply: +5V to +10V or ±5V; (5)Input Voltage Range Includes Negative Supply Rail; (6)TTL-Compatible Outputs; (7)TTL-Compatible Latch Inputs.
Diagrams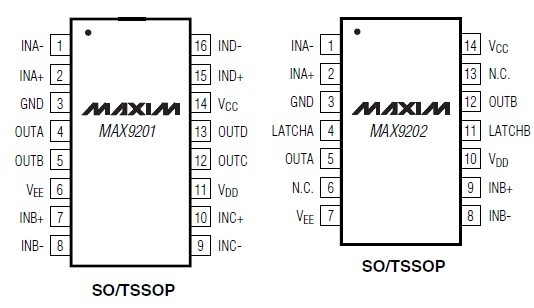 Image
Part No
Mfg
Description
Pricing
(USD)
Quantity

MAX9201ESE

Maxim Integrated Products

Comparator ICs 7ns Low-Power Comparator

Data Sheet

Negotiable

MAX9201ESE+

Maxim Integrated Products

Comparator ICs 7ns Low-Power Comparator

Data Sheet



| | |
| --- | --- |
| 0-1: | $3.92 |
| 1-25: | $2.63 |
| 25-50: | $1.90 |
| 50-100: | $1.88 |


MAX9201ESE+T

Maxim Integrated Products

Comparator ICs 7ns Low-Power Comparator

Data Sheet



| | |
| --- | --- |
| 0-2080: | $1.63 |
| 2080-2500: | $1.63 |


MAX9201ESE-T

Maxim Integrated Products

Comparator ICs 7ns Low-Power Comparator

Data Sheet

Negotiable