Product Summary
The MC33179DR2G is a family of high quality monolithic op-amps employing Bipolar technology with innovative high performance concepts for quality audio and data signal processing applications. This MC33179DR2G family incorporates the use of high frequency PNP input transistors to produce amplifiers exhibiting low input offset voltage, noise and distortion. It is widely used in audio and data signal processing.
Parametrics
MC33179DR2G maximum ratings: (1)Supply Voltage (VCC to VEE): VS= +36 V; (2)Input Differential Voltage Range VIDR: V; (3)Input Voltage Range VIR: V; (4)Output Short Circuit Duration: Indefinite sec; (5)Maximum Junction Temperature: +150 ℃; (6)Storage Temperature Range: –60 to +150 ℃; (7)Maximum Power Dissipation PD: mW.
Features
MC33179DR2G features: (1)600Ω Output Drive Capabilit; (2)Large Output Voltage Swing; (3)Low Offset Voltage: 0.15 mV (Mean); (4)Low Total Harmonic Distortion: 0.0024%; (5)High Gain Bandwidth: 5.0 MHz; (6)High Slew Rate: 2.0 V/μs; (7)Dual Supply Operation: +/-2.0 V to +/-18 V; (8)ESD Clamps on the Inputs Increase Ruggedness without Affecting Device Performance; (9)Pb-Free Package is Available.
Diagrams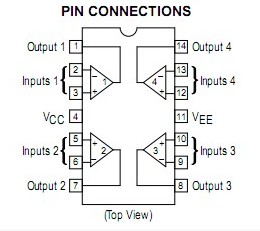 Image
Part No
Mfg
Description
Pricing
(USD)
Quantity

MC33179DR2G

ON Semiconductor

Operational Amplifiers - Op Amps 2-18V Quad Low Power Industrial Temp

Data Sheet



| | |
| --- | --- |
| 0-1: | $0.70 |
| 1-25: | $0.61 |
| 25-100: | $0.48 |
| 100-500: | $0.45 |

Image
Part No
Mfg
Description
Pricing
(USD)
Quantity

MC3302/4

Other



Data Sheet

Negotiable

MC33023

Other



Data Sheet

Negotiable

MC33023DW

ON Semiconductor

Current Mode PWM Controllers Single Ended Voltage

Data Sheet

Negotiable

MC33023DWG

ON Semiconductor

Current Mode PWM Controllers Single Ended Voltage or Current Mode PWM

Data Sheet



| | |
| --- | --- |
| 0-1: | $3.14 |
| 1-25: | $2.62 |
| 25-100: | $1.60 |
| 100-500: | $1.57 |


MC33023DWR2

ON Semiconductor

Current Mode PWM Controllers Single Ended Voltage

Data Sheet

Negotiable

MC33023DWR2G

ON Semiconductor

Current Mode PWM Controllers Single Ended Voltage or Current Mode PWM

Data Sheet



| | |
| --- | --- |
| 0-490: | $1.87 |
| 490-500: | $1.51 |
| 500-1000: | $1.27 |
| 1000-2000: | $1.21 |