Product Summary
The SDR0603-3R3ML is a SMD Power Inductor.
Parametrics
SDR0603-3R3ML absolute maximum ratings: (1)Test Voltage: 1V; (2)Reflow Soldering: 230℃, 50 sec. max; (3)Operating Temperature: -40℃ to +125℃(Temperature rise included); (4)Storage Temperature: -40℃ to +125℃; (5)Resistance to Soldering Heat: 260℃ for 5 sec.
Features
SDR0603-3R3ML features: (1)Available in E12 series; (2)Small design of only 5.8 mm maximum diameter; (3)Low 3.9 mm profile; (4)RoHS compliant.

Diagrams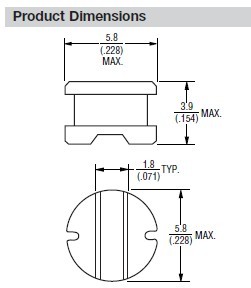 Image
Part No
Mfg
Description
Pricing
(USD)
Quantity

SDR0603-3R3ML

Bourns

Power Inductors 3.3uH 20% SMD

Data Sheet



| | |
| --- | --- |
| 0-1: | $0.25 |
| 1-10: | $0.23 |
| 10-100: | $0.14 |
| 100-400: | $0.13 |

Image
Part No
Mfg
Description
Pricing
(USD)
Quantity

SDR0302-100M

Bourns

Power Inductors 10uH

Data Sheet

Negotiable

SDR0302-100ML

Bourns

Power Inductors 10uH 10% SMD

Data Sheet



| | |
| --- | --- |
| 0-1: | $0.25 |
| 1-50: | $0.17 |
| 50-100: | $0.14 |
| 100-500: | $0.12 |


SDR0302-100MXL

Bourns

Power Inductors 10ohm 20% 2.5mm

Data Sheet

Negotiable

SDR0302-101K

Bourns

Power Inductors 100uH

Data Sheet

Negotiable

SDR0302-101KL

Bourns

Power Inductors 100uH 10% SMD

Data Sheet



| | |
| --- | --- |
| 0-1: | $0.25 |
| 1-50: | $0.17 |
| 50-100: | $0.14 |
| 100-500: | $0.12 |


SDR0302-102K

Bourns

Power Inductors 1000uH

Data Sheet

Negotiable