Product Summary
The 61089H is a programmable overvoltage protector. The 61089H is a dual forward-conducting buffered p-gate thyristor (SCR) overvoltage protector. The 61089H is designed to protect monolithic SLICs (Subscriber Line Interface Circuits) against overvoltages on the telephone line caused by lightning, a.c. power contact and induction. The 61089H limits voltages that exceed the SLIC supply rail voltage. The 61089H parameters are specified to allow equipment compliance with Telcordia GR-1089-CORE, Issue 3 and ITU-T recommendations K.20, K.21 and K.45.
Parametrics
61089H absolute maximum ratings: (1) Repetitive peak off-state voltage, VGK = 0 : -170V; (2) Repetitive peak gate-cathode voltage, VKA = -167V; (3) Non-repetitive peak impulse current 10/1000 μs (Telcordia GR-1089-CORE, Issue 3) : 100 A; (4) Junction temperature : -40 to +150℃.
Features
61089H features: (1)Dual, Voltage-Programmable SLIC Protector; (2)Low 15 mA max. Gate Triggering Current; (3)Supports Battery Voltages Down to -155 V; (4)High 150 mA min. Holding Current..
Diagrams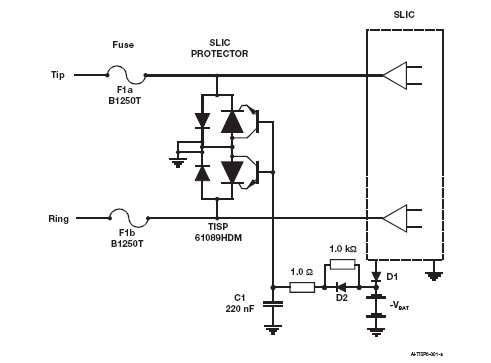 6108

Pomona Electronics

Test Clips SOIC CLIP 40 PIN

Data Sheet



61080

Greenlee

Punches & Dies PUN.UNIT(D).625X.594

Data Sheet



| | |
| --- | --- |
| 0-1: | $128.06 |
| 1-5: | $121.79 |


61081

Greenlee

Hand Tools D-PUNCH .62

Data Sheet

Negotiable

61082

Other



Data Sheet

Negotiable

61082-001

Other



Data Sheet

Negotiable

61082-041000

FCI

Board to Board / Mezzanine Connectors 3.70MM RECEPT 40P 8 Au WITH PEG

Data Sheet



| | |
| --- | --- |
| 0-660: | $1.39 |
| 660-1320: | $1.38 |
| 1320-2640: | $1.28 |
| 2640-5280: | $1.19 |