Product Summary
The SI4925BDY is a Dual P-Channel 30-V (D-S) MOSFET.The applications of the device include Load Switches, Notebook PCs, Desktop PCs and Game Stations.
Parametrics
SI4925BDY absolute maximum ratings: (1)Drain-Source Voltage, VDS: -30V; (2)Gate-Source Voltage, VGS: ±20V; (3)Continuous Drain Current (TJ = 150℃), ID: -7.1A at TA=25℃; -5.7V at TA=70℃; (4)Pulsed Drain Current, IDM: -40A; (5)continuous Source Current (Diode Conduction), IS: -1.7A; (6)Maximum Power Dissipation, PD: 2.0W at TA=25℃; 1.3W at TA=70℃; (7)Operating Junction and Storage Temperature Range, TJ, Tstg: -55 to 150℃.
Features
SI4925BDY features: (1)TrenchFET Power MOSFET; (2)Advanced High Cell Density Process.
Diagrams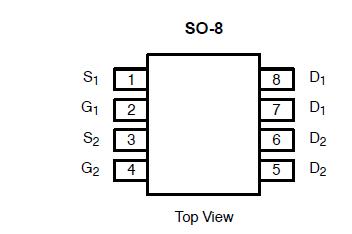 Image
Part No
Mfg
Description
Pricing
(USD)
Quantity

SI4925BDY

Vishay/Siliconix

MOSFET 30V 7.1A 2W

Data Sheet

Negotiable

SI4925BDY-E3

Vishay/Siliconix

MOSFET 30V 7.1A 2W

Data Sheet

Negotiable

SI4925BDY-T1-E3

Vishay/Siliconix

MOSFET 30 Volt 7.1 Amp 2.0W

Data Sheet



| | |
| --- | --- |
| 0-1: | $0.71 |
| 1-25: | $0.56 |
| 25-50: | $0.53 |
| 50-100: | $0.50 |


SI4925BDY-T1-GE3

Vishay/Siliconix

MOSFET 30V 7.1A 2.0W 25mohm @ 10V

Data Sheet



| | |
| --- | --- |
| 0-1690: | $0.33 |
| 1690-2500: | $0.27 |