Product Summary
The CS4398-CZZR is a complete stereo 24 bit/192 kHz digital-to-analog system. This D/A system includes digital deemphasis, half dB step size volume control, ATAPI channel mixing, selectable fast and slow digital interpolation filters followed by an oversampled multi-bit delta sigma modulator that includes mismatch shaping technology that eliminates distortion due to capacitor mismatch. Following this stage is a multi-element switched capacitor stage and low pass filter with differential analog outputs. The applications of the CS4398-CZZR include DVD Players, SACD Players, A/V Receivers and Professional Audio Products.
Parametrics
CS4398-CZZR absolute maximum ratings: (1)DC Power Supply Analog power, VA: -0.3 to 6.0V; Voltage reference, VREF: -0.3 to 6.0V; Digital power, VD: -0.3 to 6.0V; Serial audio interface power, VLS: -0.3 to 6.0V; Control port interface power, VLC: -0.3 to 6.0V; (2)Input Current any pin except supplies, Iin: -±10mA; (3)Digital Input Voltage, Serial audio interface, VIN-LS: -0.3 to VLS+0.4V; Control port interface, VIN-LC: -0.3 to VLC+0.4V; (4)Ambient Operating Temperature (power applied), TA: -55 to 125℃; (5)Storage Temperature, Tstg: -65 to 150℃.
Features
CS4398-CZZR features: (1)Advanced Multi-bit Delta-Sigma Architecture: 120 dB Dynamic Range; -107 dB THD+N; Low Clock Jitter Sensitivity; Differential Analog Outputs; (2)PCM input: 102 dB of Stopband Attenuation; Supports Sample Rates up to 192 kHz; Accepts up to 24 bit Audio Data; Supports All Industry Standard Audio Interface Formats; Selectable Digital Filter Response; Volume Control with 1/2 dB Step Size and Soft Ramp; Flexible Channel Routing and Mixing; Selectable De-Emphasis; (3)Supports Stand-Alone or I2C/SPI Configuration Embedded Level Translators: 1.8 V to 5 V Serial Audio Input; 1.8 V to 5 V Control Data Input; (4)Direct Stream Digital (DSD): Dedicated DSD Input Pins; On-Chip 50 kHz Filter to Meet Scarlet Book SACD Recommendations; Matched PCM andDSD Analog Output Levels; Non-Decimating Volume Control with 1/2 dB Step Size and Soft Ramp; DSD Mute Detection; Supports Phase-Modulated Inputs; Optional Direct DSD Path to On-Chip Switched Capacitor Filter; (5)Control Output for External Muting: Independent Left and Right Mute Controls; Supports Auto Detection of Mute Output Polarity; (6)Typical Applications: DVD Players; SACD Players; A/V Receivers; Professional Audio Products.
Diagrams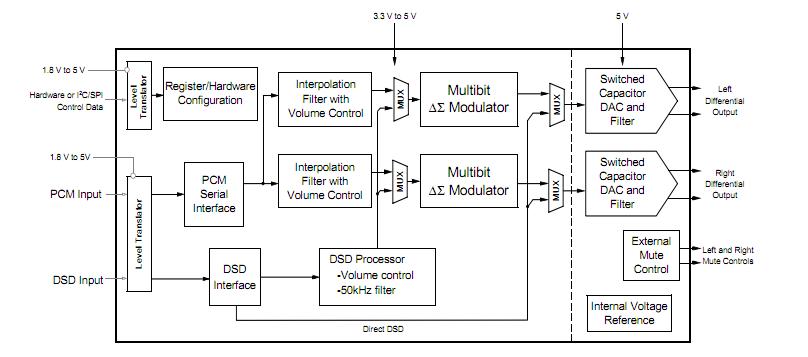 Image
Part No
Mfg
Description
Pricing
(USD)
Quantity

CS4398-CZZ

Cirrus Logic

Audio D/A Converter ICs Stereo Multi-Bit DAC 192kHz 120dB w/VC

Data Sheet



| | |
| --- | --- |
| 0-1: | $4.45 |
| 1-25: | $4.20 |
| 25-50: | $4.16 |
| 50-100: | $4.03 |


CS4398-CZZR

Cirrus Logic

DAC (D/A Converters) IC 120dB 192kHz Mlt-Bt DAC w/Volctrl

Data Sheet