Product Summary
The FDV303N-NL is an N-Channel enhancement mode field effect transistor. It is produced using Fairchild's proprietary, high cell density, DMOS technology. This very high density process is tailored to minimize on-state resistance at low gate drive conditions. This device FDV303N-NL is designed especially for application in battery circuits using either one lithium or three cadmium or NMH cells. The FDV303N-NL can be used as an inverter or for high-efficiency miniature discrete DC/DC conversion in compact portable electronic devices like cellular phones and pagers. This device has excellent on-state resistance even at gate drive voltages as low as 2.5 volts.
Parametrics
FDV303N-NL absolute maximum ratings: (1)VDSS Drain-Source Voltage, Power Supply Voltage: 25 V; (2)VGSS Gate-Source Voltage, VIN: 8 V; (3)ID Drain/Output Current: 0.68 A; (4)PD Maximum Power Dissipation: 0.35 W; (5)TJ,TSTG Operating and Storage Temperature Range: -55 to 150℃; (6)ESD Electrostatic Discharge Rating: 6.0 kV.
Features
FDV303N-NL features: (1)25 V, 0.68 A continuous, 2 A Peak. RDS(ON)= 0.45 Ω @ VGS = 4.5 V; RDS(ON)= 0.6 Ω @ VGS= 2.7 V; (2)Very low level gate drive requirements allowing direct operation in 3V circuits. VGS(th) < 1.5V; (3)Gate-Source Zener for ESD ruggedness.>6kV Human Body Model; (4)Compact industry standard SOT-23 surface mount package; (5)Alternative to TN0200T and TN0201T.
Diagrams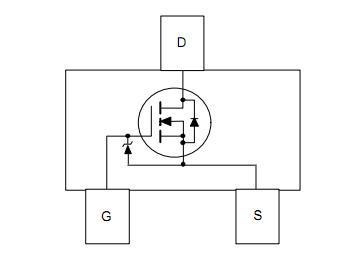 FDV301N

Fairchild Semiconductor

MOSFET N-Ch Digital

Data Sheet



| | |
| --- | --- |
| 0-1: | $0.15 |
| 1-25: | $0.13 |
| 25-100: | $0.08 |
| 100-250: | $0.05 |


FDV301N_D87Z

Fairchild Semiconductor

MOSFET 25V N-Ch FET 4 Ohm

Data Sheet

Negotiable

FDV301N_NB9V005

Fairchild Semiconductor

MOSFET N-Ch Digital Automotive Spec

Data Sheet



| | |
| --- | --- |
| 0-1: | $0.25 |
| 1-25: | $0.18 |
| 25-100: | $0.11 |
| 100-250: | $0.08 |


FDV301N_Q

Fairchild Semiconductor

MOSFET N-Ch Digital

Data Sheet

Negotiable

FDV302P

Fairchild Semiconductor

MOSFET Digital FET P-Ch

Data Sheet



| | |
| --- | --- |
| 0-1: | $0.22 |
| 1-25: | $0.20 |
| 25-100: | $0.11 |
| 100-250: | $0.07 |


FDV302P_D87Z

Fairchild Semiconductor

MOSFET Digital FET P-Ch

Data Sheet

Negotiable