Product Summary
The TEA1611T is a monolithic integrated circuit implemented in a high voltage Diffusion Metal Oxide Semiconductor (DMOS) process, which is a high voltage controller for a zero voltage switching resonant converter. The TEA1611T IC provides the drive function for two discrete power MOSFETs in a half-bridge configuration. It also includes a level-shift circuit, an oscillator with accurately programmable frequency range, a latched shut-down function and a transconductance error amplifier.
Parametrics
TEA1611T absolute maximum ratings: (1)high-side driver voltage: 0 to 600 V; (2)supply voltage: 0 to 14V; (3)auxiliary supply voltage: 0 to 20V; (4)input voltage: 0 to 5 V; (5)current on pin IFS: 1/16 max mA; (6)current on pin IRS: 1 max mA; (7)current on pin VREF: -2 max mA; (8)total power dissipation Tamb < 70 ℃: 0.8 W; (9)ambient temperature operating: -25 to +70℃; (10)storage temperature: -25 +150℃.
Features
TEA1611T features: (1)Integrated high voltage level-shift function; (2)Integrated high voltage bootstrap diode; (3)Low start-up current (green function); (4)Adjustable non-overlap time; (5)Internal OverTemperature Protection (OTP); (6)OverCurrent Protection (OCP) that activates a shut-down timer; (7)Soft start timing pin; (8)Transconductance error ampli?er for ultra high-ohmic regulation feedback; (9)Latched shut-down circuit for OverVoltage Protection (OVP); (10)Adjustable minimum and maximum frequencies; (11)UnderVoltage LockOut (UVLO); (12)Fault latch reset input; (13)Wide (max 20 V) supply voltage range.
Diagrams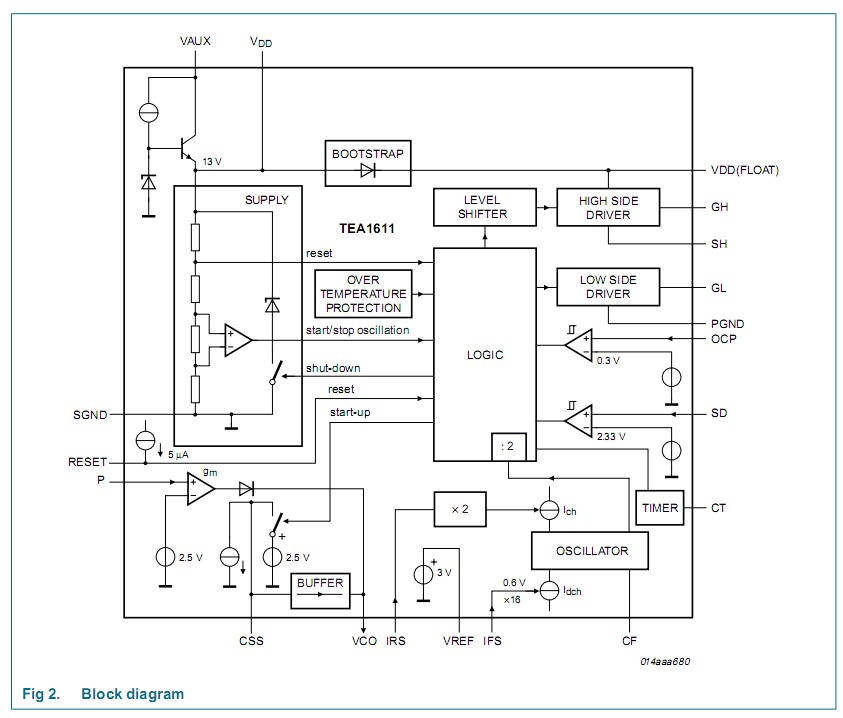 Image
Part No
Mfg
Description
Pricing
(USD)
Quantity

TEA1611T/N1,518

NXP Semiconductors

AC/DC Switching Converters IC RESONANT CONV CTRLR

Data Sheet

Negotiable

TEA1611T/N2,518

NXP Semiconductors

Switching Converters, Regulators & Controllers 5VIN 2.5VOUT 50%

Data Sheet

Negotiable