Product Summary
The BSP452 is an N channel vertical power FET with charge pump, ground referenced CMOS compatible input, monolithically integrated in Smart SIPMOS technology. Fully protected by embedded protection functions, the BSP452 has high-side switch, short-circuit protection, input protection function. It is applied to μC compatible power switch for 12 V DC grounded loads.
Parametrics
BSP452 absolute maximum ratings: (1)Supply voltage, Vbb: 40V; (2)Load current self-limited, IL: IL(SC)A; (3)Maximum input voltage, VIN: -5.0 to VbbV; (4)Maximum input current, IIN: ±5mA; (5)Inductive load switch-off energy dissipation, single pulse IL = 0.5A , TA = 150℃, EAS: 0.5J; (6)Load dump protection3) VLoadDump=UA+Vs RL= 24Ω RI=2Ω , td=400ms, IN= low or high, UA=13,5V; (7)VLoad dump: 60V; (8)Load dump protection3) V Load Dump=UA+Vs RL= 80Ω RI=2Ω , td=400ms, IN= low or high, UA=13,5V; (9)VLoad dump: 80V; (10)Electrostatic discharge capability (ESD)5) PIN 3, VESD:±1kV; (11)Electrostatic discharge capability (ESD)5) PIN 1,2,4, VESD: ±2kV; (12)Operating temperature range, Tj: -40 to +150℃; (13)Storage temperature range, Tstg: -55 to +150℃; (14)Max. power dissipation (DC)6) TA = 25 ℃, Ptot: 1.8W.
Features
BSP452 features: (1)High-side switch; (2)Short-circuit protection; (3)Input protection; (4)Overtemperature protection with hysteresis; (5)Overload protection; (6)Overvoltage protection; (7)Switching inductive load; (8)Clamp of negative output voltage with inductive loads; (9)Undervoltage shutdown; (10)Maximum current internally limited; (11)Electrostatic discharge (ESD) protection; (12)Reverse battery protection.
Diagrams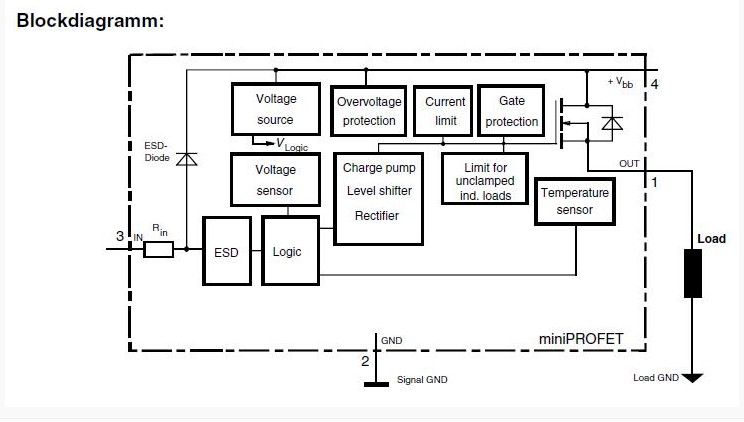 Image
Part No
Mfg
Description
Pricing
(USD)
Quantity

BSP452

Infineon Technologies

Power Switch ICs - Power Distribution SMART HI SIDE SWITCH

Data Sheet



| | |
| --- | --- |
| 0-1: | $1.18 |
| 1-10: | $1.04 |
| 10-100: | $0.85 |
| 100-500: | $0.66 |


BSP452 E6327



IC HIGH SIDE SWITCH SOT-223

Data Sheet

Negotiable