Product Summary
The TLC2274C is a dual and quadruple operational amplifier from Texas Instruments. It exhibits rail-to-rail output performance for increased dynamic range in single- or split-supply applications. The TLC2274C offers 2 MHz of bandwidth and 3 V/μs of slew rate for higher speed applications. It offers comparable ac performance while having better noise, input offset voltage, and power dissipation than existing CMOS operational amplifiers. The TLC2274C has a noise voltage of 9 nV/√Hz, two times lower than competitive solutions.
Parametrics
TLC2274C absolute maximum ratings: (1)Supply voltage, VDD+: 8 V; (2)Supply voltage, VDD-: -8 V; (3)Differential input voltage, VID: ±16 V; (4)Input voltage range, VI: VDD- -0.3 V to VDD+; (5)Input current, II (any input): ±5 mA; (6)Output current, IO: ±50 mA; (7)Total TLC2274CDR current into VDD+:. ±50 mA; (8)Total current out of VDD: ±50 mA; (9)Duration of short-circuit current at (or below) 25℃: unlimited; (10)Package thermal impedance, θJA: D package (8 pin): 97.1℃/W, D package (14 pin): 86.2℃/W, N package: 79.7℃/W, P package: 84.6℃/W, PW package (8 pin): 149℃/W, PW package (14 pin): 113℃/W; (11)Package thermal impedance, θJC: FK package: 5.6℃/W, J package: 15.1℃/W, U package: 14.7℃/W; (12)Operating free-air temperature range, TA: C suffix: 0℃ to 70℃, I, Q suffix: -40℃ to 125℃, M suffix: -55℃ to 125℃; (13)Storage temperature range: -65℃ to 150℃; (14)Lead temperature 1,6 mm (1/16 inch) from case for 10 seconds: D, N, P or PW package: 260℃; (15)Lead temperature 1,6 mm (1/16 inch) from case for 60 seconds: J or U package: 300℃.
Features
TLC2274C features: (1)Output Swing Includes Both Supply Rails; (2)Low Input Bias Current: 1 pA Typ; (3)Fully Specified for Both Single-Supply and Split-Supply Operation; (4)Common-Mode Input Voltage Range Includes Negative Rail; (5)High-Gain Bandwidth: 2.2 MHz Typ; (6)High Slew Rate: 3.6 V/μs Typ; (7)Low Input Offset Voltage: 950 μV Max at TA = 25℃; (8)Macromodel Included; (9)Performance Upgrades for the TS272, TS274, TLC272, and TLC274; (10)Available in Q-Temp Automotive: HighRel Automotive Applications, Configuration Control / Print Support, Qualification to Automotive Standards.
Diagrams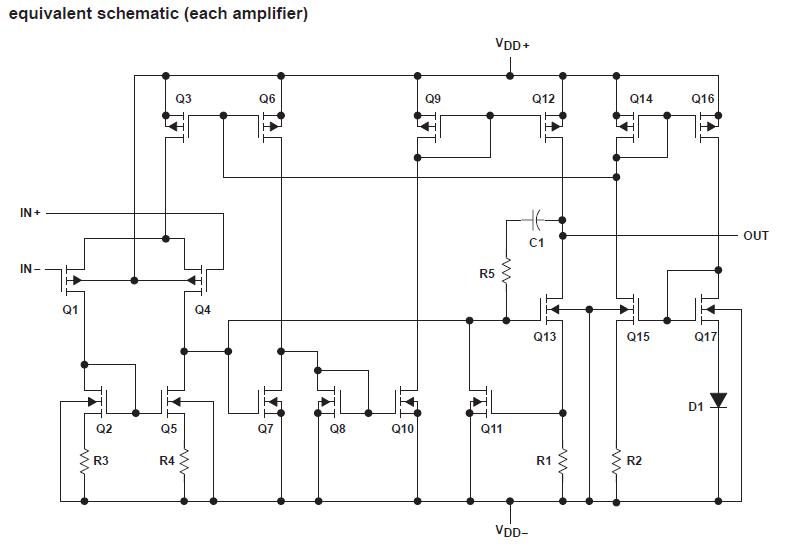 Image
Part No
Mfg
Description
Pricing
(USD)
Quantity

TLC2274CD

Texas Instruments

Operational Amplifiers - Op Amps Quad Low Noise

Data Sheet



| | |
| --- | --- |
| 0-1: | $1.32 |
| 1-25: | $1.21 |
| 25-100: | $0.96 |
| 100-250: | $0.90 |


TLC2274CDG4

Texas Instruments

Operational Amplifiers - Op Amps Quad Lo-Noise R-To-R Op Amp

Data Sheet



| | |
| --- | --- |
| 0-1: | $1.32 |
| 1-25: | $1.09 |
| 25-100: | $0.96 |
| 100-250: | $0.90 |


TLC2274CNE4

Texas Instruments

Operational Amplifiers - Op Amps Quad Lo-Noise R-To-R Op Amp

Data Sheet



| | |
| --- | --- |
| 0-1: | $1.31 |
| 1-25: | $1.15 |
| 25-100: | $0.91 |
| 100-250: | $0.85 |


TLC2274CDR

Texas Instruments

Operational Amplifiers - Op Amps Quad Low Noise R/R

Data Sheet



| | |
| --- | --- |
| 0-1: | $1.19 |
| 1-25: | $0.96 |
| 25-100: | $0.87 |
| 100-250: | $0.79 |


TLC2274CN

Texas Instruments

Operational Amplifiers - Op Amps Quad Low Noise

Data Sheet



| | |
| --- | --- |
| 0-1: | $1.16 |
| 1-25: | $1.06 |
| 25-100: | $0.83 |
| 100-250: | $0.79 |


TLC2274CDRG4

Texas Instruments

Operational Amplifiers - Op Amps Quad Lo-Noise R-To-R Op Amp

Data Sheet



| | |
| --- | --- |
| 0-1790: | $0.60 |
| 1790-2000: | $0.57 |
| 2000-2500: | $0.57 |
| 2500-5000: | $0.55 |


TLC2274CPW

Texas Instruments

Operational Amplifiers - Op Amps Quad Low N R/R

Data Sheet



| | |
| --- | --- |
| 0-1: | $1.32 |
| 1-25: | $1.09 |
| 25-100: | $0.96 |
| 100-250: | $0.90 |


TLC2274CNSG4

Texas Instruments

Operational Amplifiers - Op Amps Quad Low-Noise R/R Op Amp

Data Sheet



| | |
| --- | --- |
| 0-1: | $1.36 |
| 1-25: | $1.09 |
| 25-100: | $0.96 |
| 100-250: | $0.85 |